Other Brands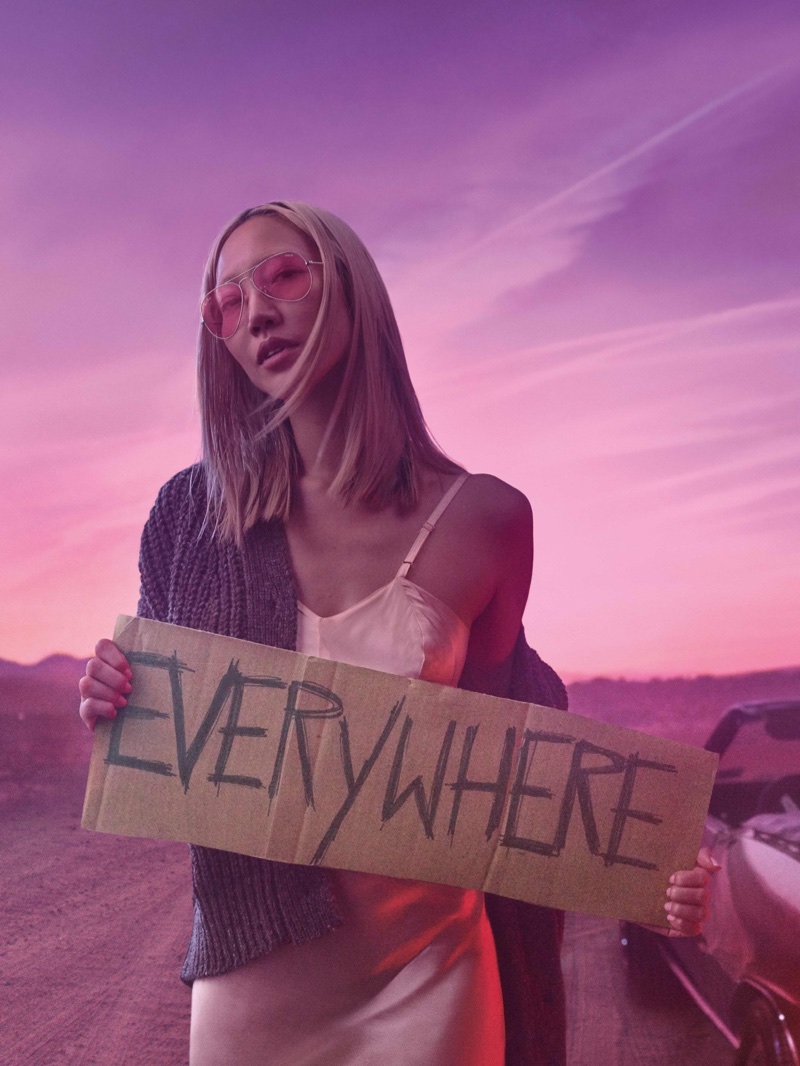 Steven Klein heads to the open road for Ray-Ban's 2018 campaign called, 'Destination Everywhere'. Models Soo Joo Park, Constanze Saemann, Markel Williams and Austin Kellogg pose in the desert wearing the eyewear brand's signature styles. The quartet go on a road trip rocking The Marshal, Wayfarer Blaze, Aviator Evolve and Hexagonal shades. With each protagonist chasing their dream, the sun-drenched shots and accompanying film channel cinematic vibes.
Related: Joan Smalls & Karen Elson Go for a Ride in Tom Ford's Spring 2018 Campaign
RAY-BAN 'DESTINATION EVERYWHERE' 2018 CAMPAIGN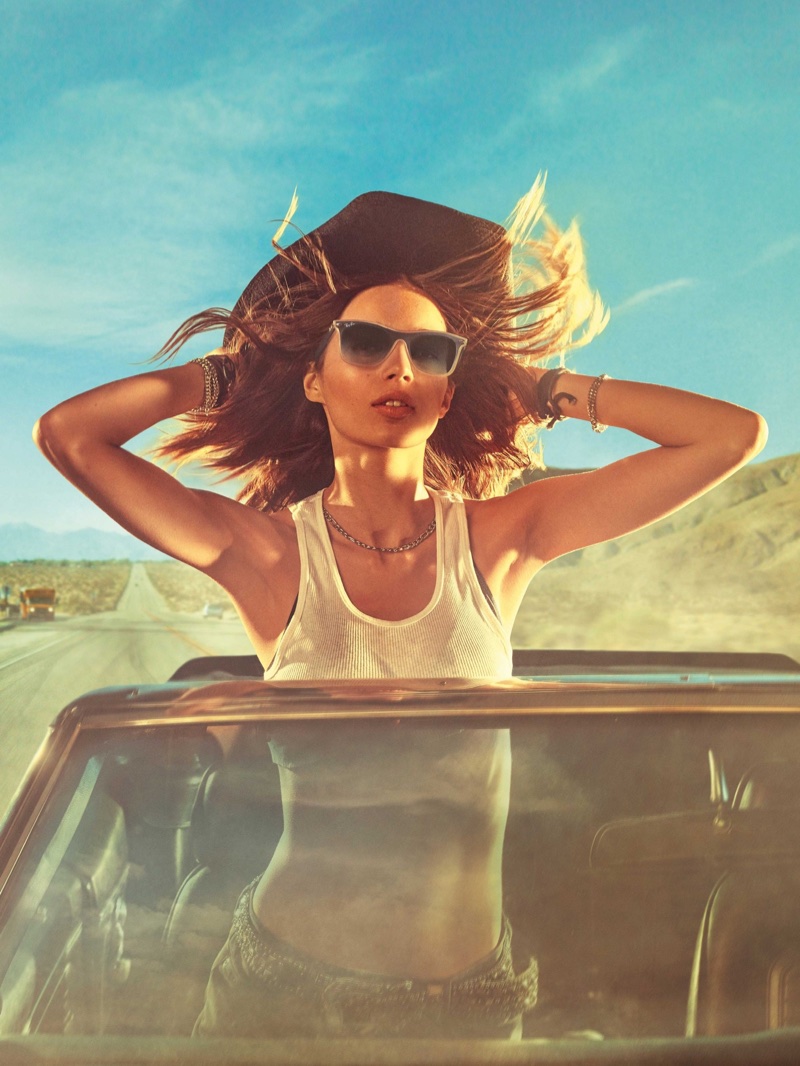 It's about freedom and letting go," says Steven Klein. "Living in turbulent times, one of the things that evokes that for many people is a road trip. This campaign represents that no matter what hardships come your way, you can be an individual, go on your own path and experience fun, optimism, creativity, love… everybody's looking for their own personal freedom."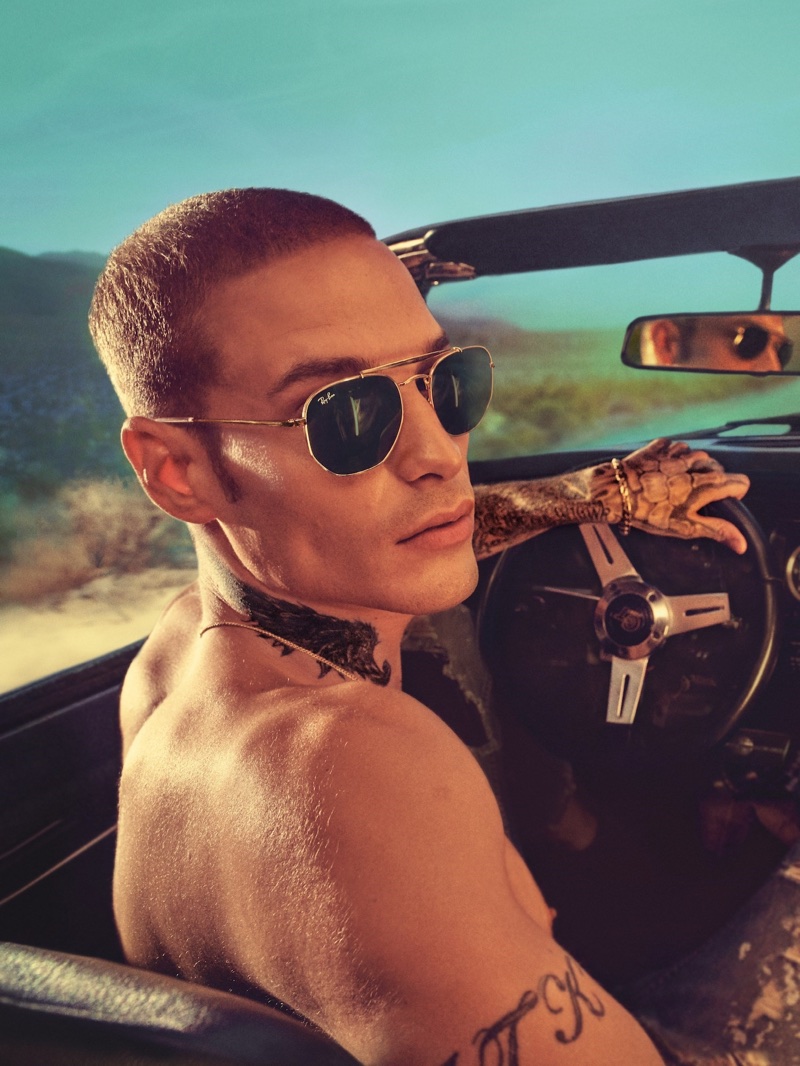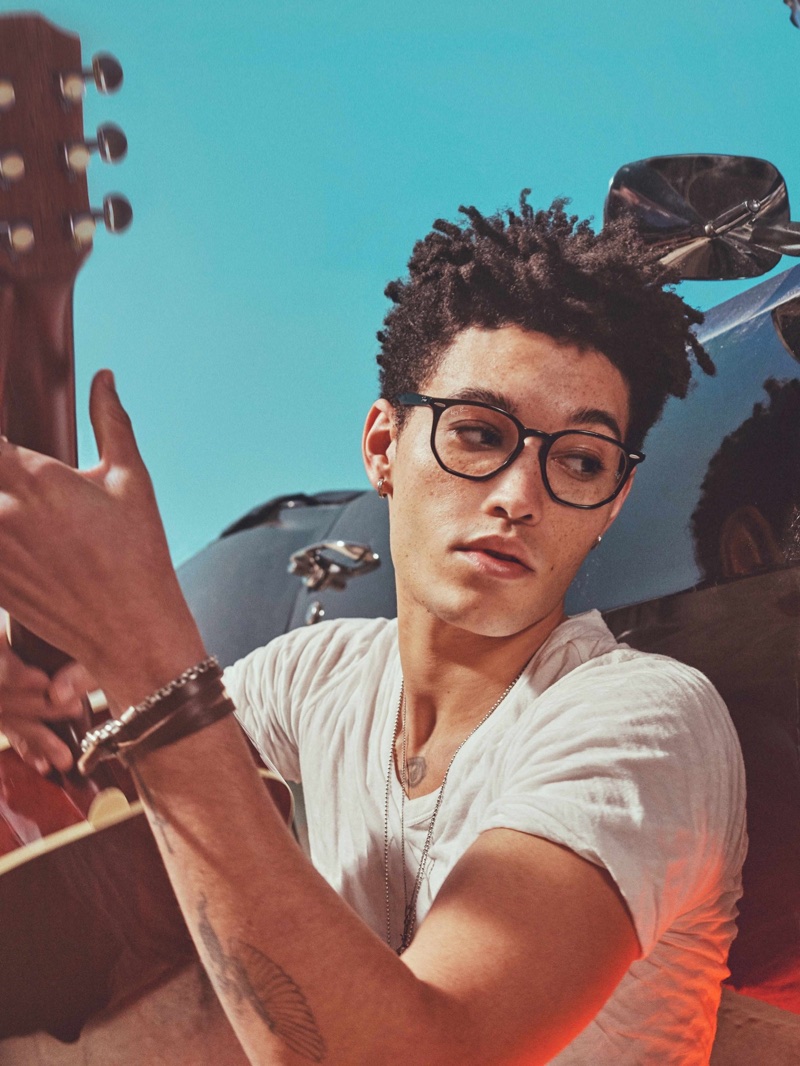 Other Brands
We've seen a few Dior phone cases before and they're never a disappointment. For example, the Lady Dior Zipped iPhone Pouch, remember? Or the Dior Stardust Phone Pouch, remember? But we do think that the J'Adior version is the best of all (for now of course). Why? Because it's a true bragger, don't you think? So meet the J'Adior Phone Case for the Spring 2018 Collection.
The Design
Image the importance of an iPhone – you will be carrying and holding it from day to night. So is it necessary to get your iPhone covered with something more stylish? You bet it does.
The J'Adior Phone Case is a simple case. There are no studs like the previous Lady Dior versions, which should make it look classic right? But nah, the J'Adior logo in extremely large size as well the two big stars are drawing all the attention. And the gold hardware only makes it more exciting.
The Case is crafted from grained calfskin. And oh, did we tell you that it comes with a 120 cm chain?
The Interior
It's called a case, but the interior is quite amazing. I think it can be used as a temporary wallet. So the inside is made with 1 flat pocket and 4 card slots. So it can carry slightly more than only your iPhone.
The Prices and Sizes
Measuring 8 x 14.2 cm, priced at $800 USD, €660 EUR, £630 GBP via Dior boutiques.
More Images And Colors
Other Brands
Ever dream of living the Bond Girl life and spending your nights gracing the casino halls of Vegas or Monte Carlo but live too far away or prefer the walls of your own home? Here is an alternative. Bring the casino to you. How cool would it be to host the ultimate party, bringing the glamour of fancy casinos to your doorstep?
The prospect might seem daunting, as there are a lot of things to think about when creating a night to impress, but this does not have to be a stressful or expensive affair. With these few key tips, you'll be drinking, dancing and gambling with your friends in no time.
STEP 1: FASHION
Of course, this needs to be on the list. You can't have a glamorous casino night without glamorous fashion. As your party is at home and you are the host, you want to have a killer outfit, but this doesn't mean you need to spend loads on a designer dress. It's time to get thrifty and search for the best of high street fashion. If celebrities manage to do it, then you can too. Then again, it's always good to treat yourself, so if you're feeling the need to shop, the price should not hold you back. After all, you want this to be a night to remember. If you do struggle to find an outfit you like, remember that you are at home, and could always make it a pyjama-themed party.
Source: Pexels
STEP 2: FOOD AND DRINK
Casino equals cocktails. To be the best host, you need to make sure your guests have a supply of drinks. Casinos are sophisticated though, so the typical house party image of kegs and beer pong is not an option. It's time to get creative and keep the food and drink within the casino theme. Cocktails are the drink of choice to maintain the 007 vibe. You may even want to add cocktail making to the party and create your casino-inspired drinks. As a host though, remember you need to be aware of your guests' wellbeing. To be super prepared, put out some jugs of water, so your friends can stay hydrated easily and offer some casino-themed snacks. How do cookies decorated with a dice icing pattern sound?
STEP 3: GAMES
The reason for the party. The good thing is you do not need to try and recreate a Vegas casino hall. Online casino gaming is very popular nowadays, with various options out there for different games. You can even play online using bitcoin instead of traditional currencies, and there is an array of online games out there today, including the usual casino ones and dice-only gambling. As long as you have a WiFi connection, you are good to go, and you can use the money that you would have spent on casino supplies such as cards, dice and chips, on your outfit instead. Given it's the 21st century, your friends will undoubtedly have their own phones with internet access, so the stress of having to loan people your iPad or laptop is non-existent.
"Strawberry Martini" (CC BY 2.0) by daspunkt
You've got the steps now to start planning the ultimate casino party. Have fun, everyone!
Other Brands
Hailey Clauson dresses in black on the February-March 2018 cover of L'Officiel Netherlands. Photographed by Mason Poole, the American beauty poses in a complete look from Louis Vuitton's spring collection. For the accompanying spread, Hailey wears statement looks styled by Henna Koskinen. The blonde model poses in designs from the likes of Mugler, Chanel and Calvin Klein.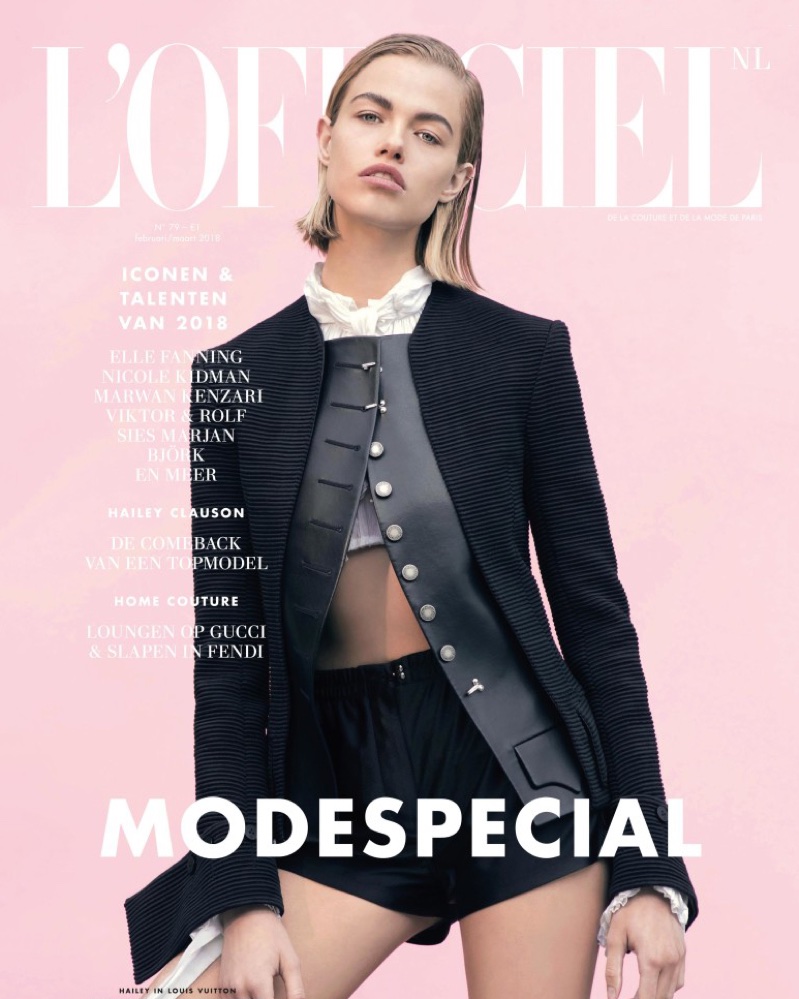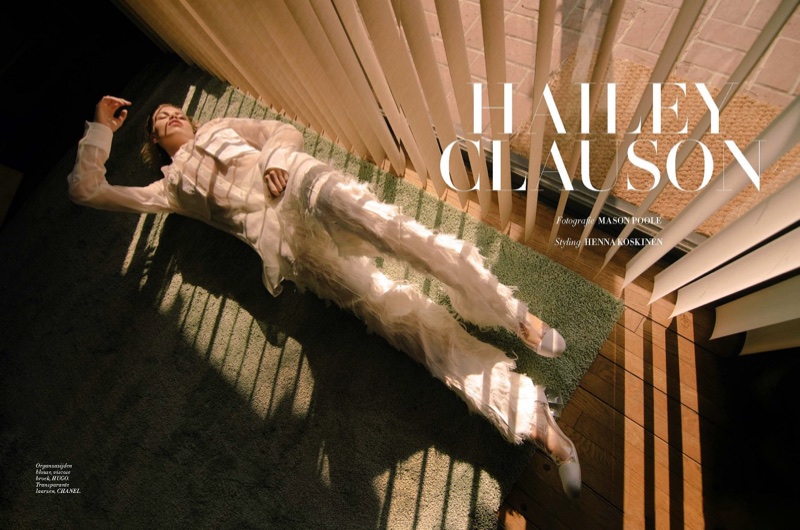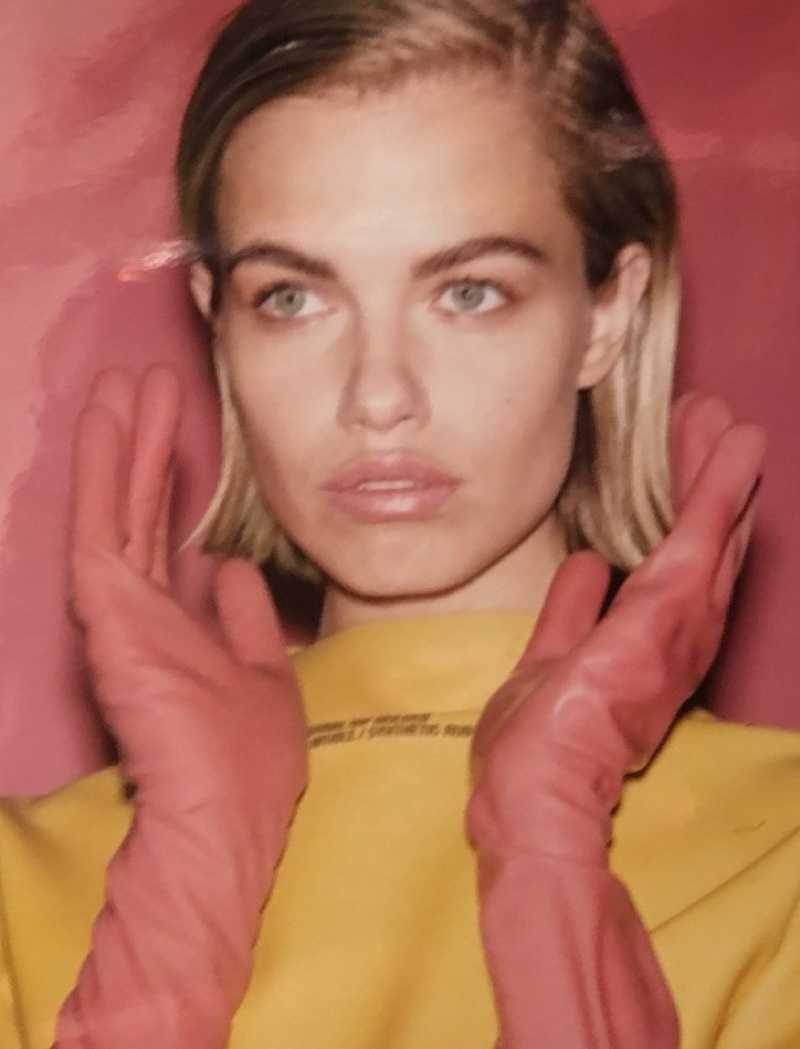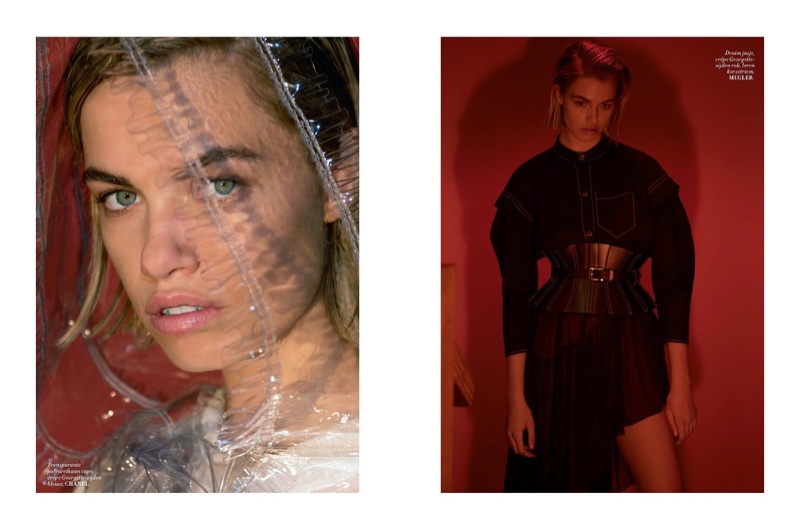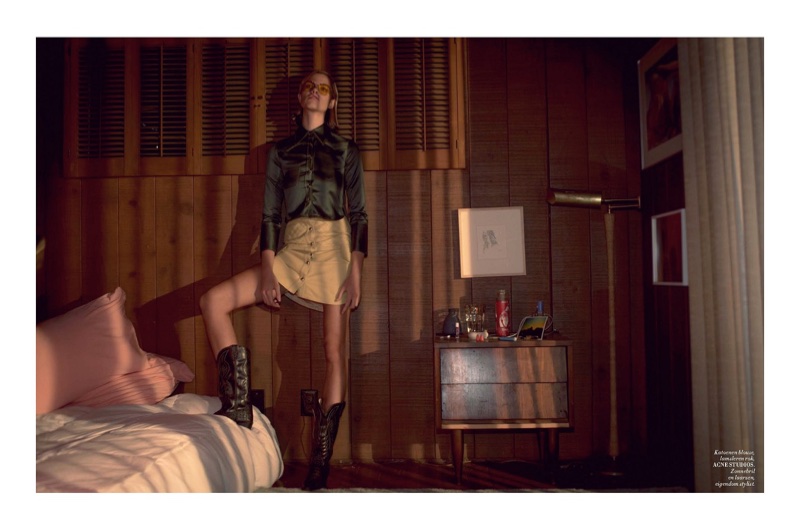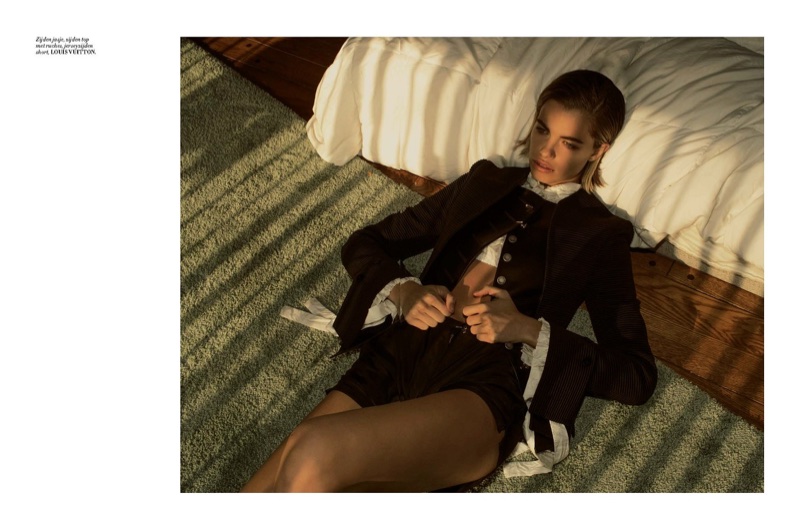 Other Brands
What's the best way to differentiate yourself without sacrificing your love for the classics? Well, here's the secret – take an iconic handbag, but with seasonal addition. For example, these Boy Chanel Braided WOCs from Chanel Spring Summer 2018 Collection Act 1. It's like hitting two jackpots in one; you get the style you want and it's beautiful as well. So what do you think?
The Design
Or you can just buy it as an investment because you like collecting Boys. These Boy Chanel WOCs are the ones that you want to bring with when having fine dine with your friends. And the best of all, without any hype, you can never go wrong with these. Always in-style. Forever-trending and better than investing stocks.
These Boy WOCs are nicely built without the quilting, but instead the centers are crafted with two-tone braided-patterns in lambskin. The two-tone eliminates the boredom out of the bag and creates a touchy and lovely contrast. The middle features the iconic studded clasp that everyone fashion girl loves. And what's best of all? These are unique designs because they will be gone when the season is over.
And if you doubt whether this Boy will be useful or not. Ask yourself; is there a moment when you need this beautiful thing? Of course there is.
The Interior
The interior looks like a big wallet. Inside you will find multiple compartments with patch pockets and credit card slots to help you organize your daily essentials. The only question left is; will you be carrying it day or night? Or both?
The Prices And Sizes
Style code A80287, measuring 4.8' x 7.6' x 1.4' inches, priced at $3150 USD, €2950 EUR, £2670 GBP, $4960 SGD, $25900 HKD, $4650 AUD via Chanel boutiques.
More Images And Colors
Other Brands
Milena Ioanna turns up the glam factor for the January 9th, 2018 issue of ELLE France. Photographed by Liz Collins, the Russian model poses in spring beauty looks from Dior. Stylist Julie Chanut-Bombard selects statement tops for Milena to wear. Dior Makeup Creative and Image Director Peter Phillips works on her bold eyeshadow and rouged cheeks with Yannick D'Is on hair.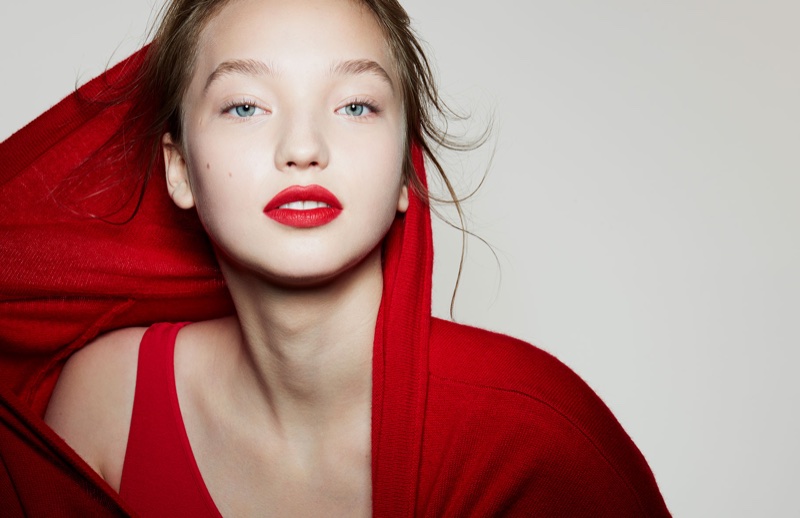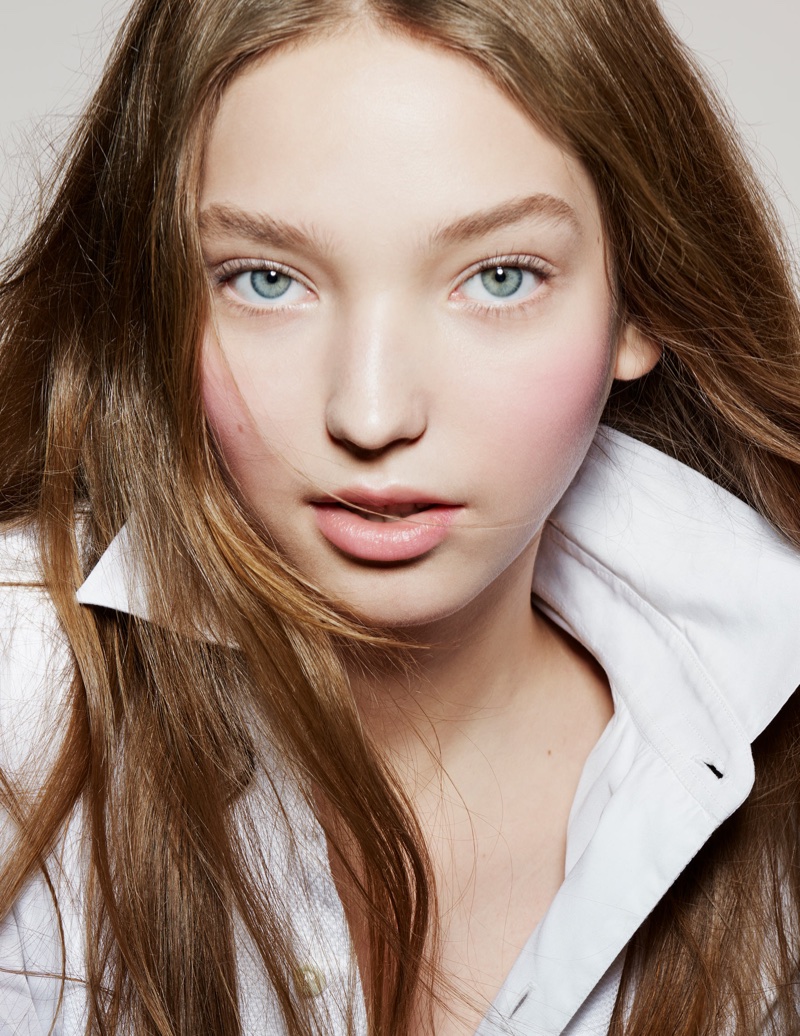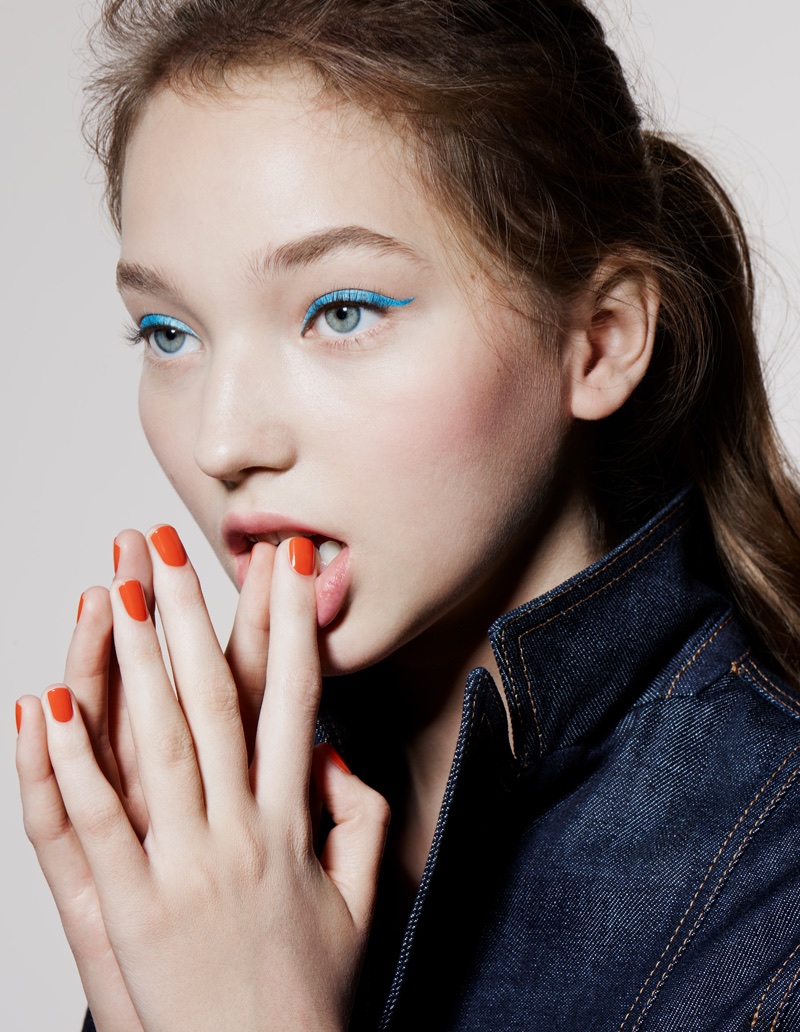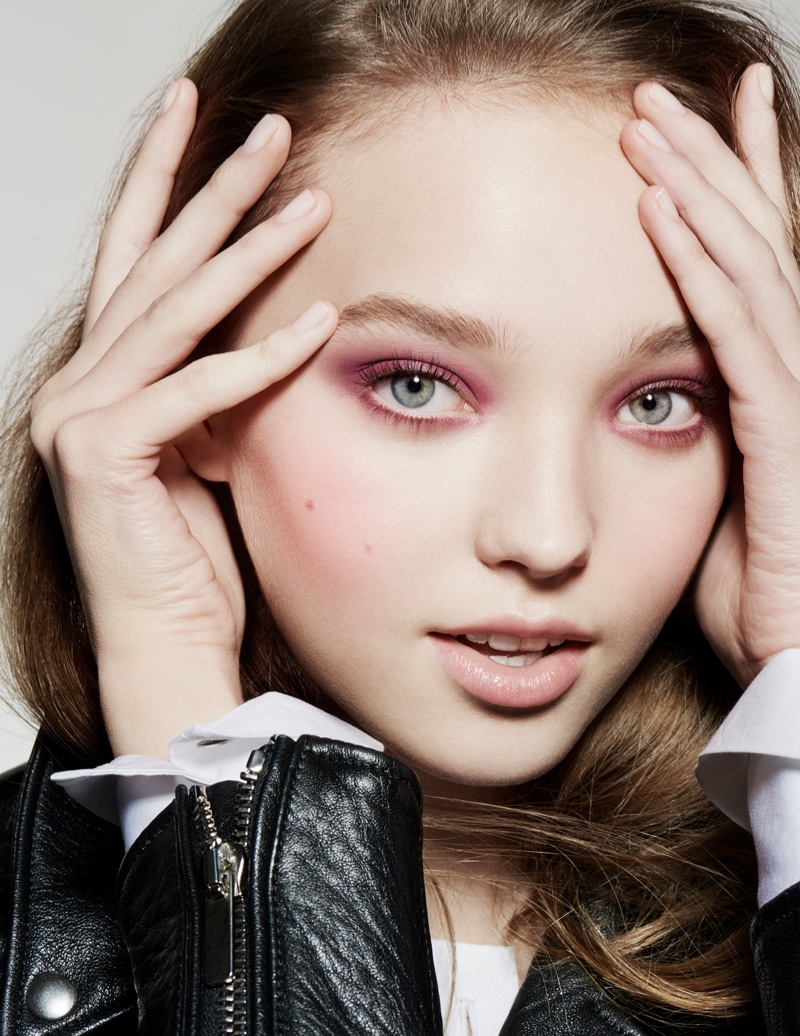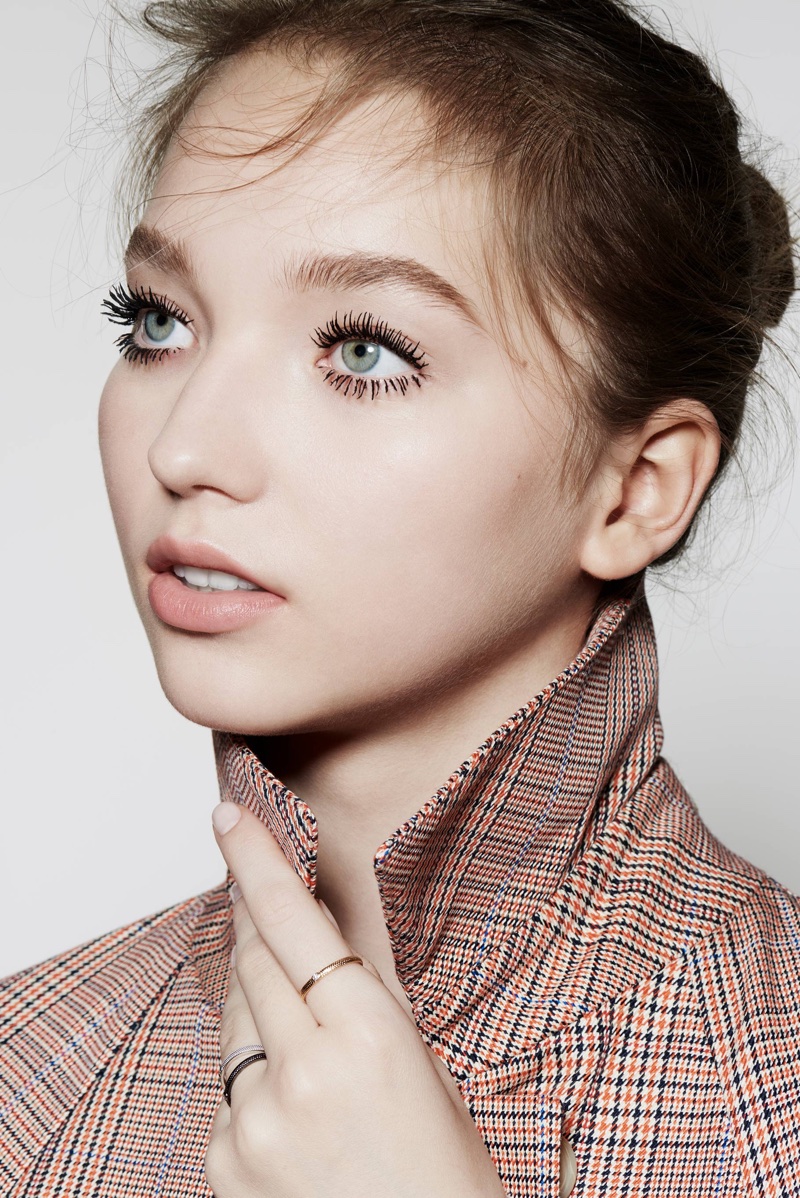 Designer Bags, Wallet, Purse, Belt & Accessories Official Site, Best Price & Quality, Free Worldwide Shipping, Free Returns. Each Bag Is A Work Of Art - Handmade - Cowhide Art - Can Custom-Made

Categories

New Posts

Hot Posts